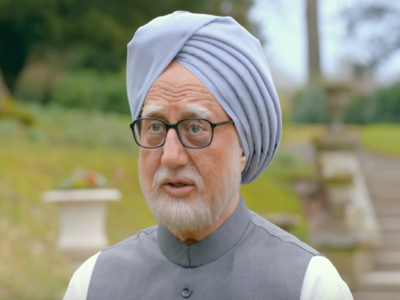 The reason for the high-handed demand of the Congress seems to be its unease with the way former Prime Minister Manmohan Singh has been protrayed in the movie.
Satyajeet Tambe Patil, who leads the Maharashtra Youth Congress, has now written to the producers of the movie asking them to screen it for Congress leaders and get their approval or the party would not let the movie be released.
The film stars Anupam Kher as Manmohan Singh, the economist and politician who served as the Prime Minister of India from 2004 to 2014 under the United Progressive Alliance.
"The Accidental Prime Minister" shows Manmohan Singh dealing with pressures from the Congress leadership.
Wall prototypes sit on the US-Mexico border
Mr Trump claimed that many of these workers "have said to me and communicated "stay out until you get the funding for the wall". Coast Guard employees are considered essential, and will report to work this week without pay, with another 6,000 furloughed.
The Congress in Maharashtra has objected to the trailer of the movie, "The Accidental Prime Minister", claiming that it shows the party leaders in a "disparaging" manner.
Congress has in the past accused the Gutte family of siphoning off over Rs 300 crores as part of a sugar factory scam which involved fraudulently taking loans worth the same amount in the names of farmers without their knowledge and later diverting it to films.
Congress leader Randeep Singh Surjewala also tweeted a denial, accused the BJP of spreading "fake propaganda". "Watch the official trailer of #TheAccidentalPrimeMinister, based on an insider's account, releasing on 11 Jan!" Anupam Kher also thanked to Akshay Khanna and wrote on Instagram, "Dear @akshaye_khanna!"
At the trailer launch on December 27, Anupam Kher said, "We did not start the film thinking that this kind of political scenario will be there. The book has been out since 2014, no protests were held since then, so the film is based on that", Kher told news agency ANI. Akshay Khanna is playing Sanjaya Baru, who was the media adviser of Manmohan Singh, in the film, which is scheduled to hit the theaters on 11th January 2019. Talking about the same, director Vijay Gutte had earlier said in a statement, "Since the film is a story of the prime minister's office and belongs to the whole country, we want it to reach as far as possible and not just restrict it to the Hindi audience".